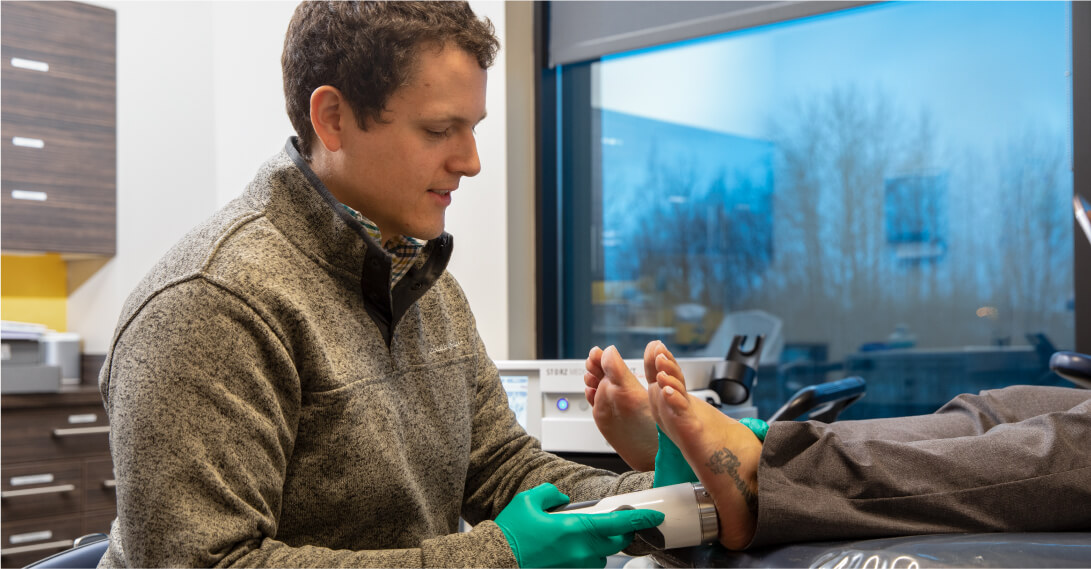 Podiatric Medicine and Surgery for Alaskans
As Alaskans, we use our feet a little differently in everyday life, and at Alaska Foot & Ankle Specialists we tailor our care to your specific needs.
For many Alaskans, long summer days are spent hiking mountains, walking the banks of the river to find the perfect fishing spot, or peddling bicycles in the cool mountain air. In the winter, our ankles help keep us steady on the snow and ice and in our ski boots as we glide downhill. But many Alaskans also experience conditions like diabetes, varicose veins and osteoporosis that can keep us off our feet.
Wherever your feet take you, they deserve a different level of care; you deserve specialized care from Alaska podiatrists.
Alaska Foot & Ankle Specialists (AFAS) is an entire clinic dedicated exclusively to diseases and conditions of the foot and ankle. Whatever your condition, the providers at AFAS have the training and experience in podiatric medicine to provide a solution.
From ankle sprains to frostbite, ulcers and so much more, we're here to get you back on your feet and keep you there.
Our doctors are board certified in the specialty of foot and ankle surgery and credentialed with the following local institutions:
ASCNorth
Surgery Center of Wasilla
Surgery Center of Anchorage
Alaska Regional Hospital
Providence Alaska Medical Center
Mat-Su Regional Medical Center
The physicians of Alaska Foot & Ankle Specialists are members of the following professional podiatric medicine associations:
American Board of Foot and Ankle Surgery
American College of Foot and Ankle Surgeons
American Podiatric Medical Association
These podiatry credentials are matched by doctors who go above and beyond their certifications to create a comfortable, safe and supportive customer experience every step of the way. Our staff and physicians are known for their kindness, knowledge and senses of humor. We are proud to be represented by a team that not only cares about feet and ankles, but the humans they are connected to.
We frequently hear from patients who have had positive experiences at Alaska Foot & Ankle Specialists because of this approach.
Patti's experience started with our front desk and ended with a way forward in solving her concerns.
"The front desk people were friendly and helpful. Same with the nurses. Dr. Jansma was great. I felt like we are collaborators trying to solve my foot problem together. She shared a lot of good information in ways I could understand it (and drew great pictures to illustrate), told me what my options were, and respected my decision. I am pleased to have her on my team."

– Patti Saunders
We've also heard from patients like Rachel, who experienced a different quality of care at Alaska Foot & Ankle Specialists than she has found with previous practitioners.
"My body likes to be difficult. Procedures that frequently work on most people will often not work on me. Dr Randall has been patient and continues to think and try new methods without getting annoyed. I know this seems like a normal response from a physician, but trust me it's not."

– Rachel Rowlan
Meanwhile, Jenny's experience highlights just how important it is to take a more human approach to medical care.
"I had bunion and hammertoe repair with Dr. Heilala on 9 March. On 19 April my pin was to come out of the hammertoe. I went in and unfortunately that same day was when we were going to put our dog down due to liver cancer. I was a hot mess not only sad for the loss of my dog but also concerned about the pin coming out. I went to the office and Tracey met me in the waiting room-I was crying and when I told her what was going on – her compassion and concern for me was overwhelming. Dr. Heilala came into the room and saw my meltdown and was so sensitive to my feelings and was concerned that I was OK. My pin was removed and honestly it really was no big deal – just like he told me from day one. My point is through this whole dissertation is there is no place better than AFAS and the crew. I wholeheartedly recommend these guys and would never go anywhere else. They're the best not only for what they don't but for how much they REALLY care. I'm thankful for all of these guys and what they do."

– Jenny Davis
There's podiatric medicine, and then there's specialized care for your feet and ankles that considers more than just your lower extremities. At Alaska Foot & Ankle Specialists, we set ourselves apart by considering the whole human and how you use your feet to make your life in Alaska unique.
Whether you have plantar fasciitis, calf pain, an ingrown toenail, or something else that's keeping you off your feet, Alaska Foot & Ankle Specialists is ready to help you solve the problem with care and kindness.
We'll get you back on your feet, so you can keep doing the things you love, like going for long walks in the midnight sun, standing under the winter night sky looking up at the northern lights, or dipping your toes into the ocean. At Alaska Foot & Ankle Specialists, we believe that healthy feet and ankles can make your whole life happier.